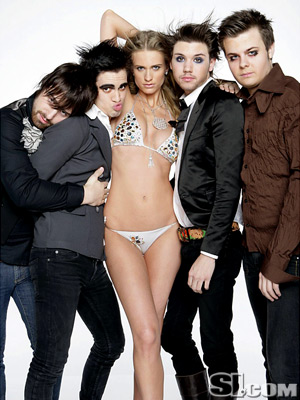 Panic! at the Disco est un groupe originaire de Las Vegas, Nevada. Leur musique mélange pop, electronique, dance, rock, et bien d'autres. Leur premier album A Fever You Can't Sweat Out (2005) a rencontré beaucoup de succès dans le Billboard 200. Il s'est vendu à environ un million de copies.
Sortie 25 mars 2008
01 We're So Starving
02 Nine In The Afternoon
03 She's A Handsome Woman
04 Do You Know What I'm Seeing?
05 That Green Gentlemen
06 I Have Friends In Holy Spaces
07 Northern Downpour
08 When The Day Met The Night
09 Pas De Cheval
10 The Piano Knows Something I Don't Know
11 Behind The Sea
12 Folkin' Around
13 She Had The World
14 From A Mountain In The Middle Of The Cabins
15 Mad As Rabbits
MP3 ::
Nine In The Afternoon
bonnus
Panic! At The Disco - Build God, Then We'll Talk